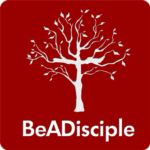 We now live in a world that can be and is more connected in real time through the internet, via computer, smartphone, and smart pad. We have experience in live group meetings, both in person and virtual, and recognize the criticality of this being part of the Disciple Bible Study experience. We wish to preserve the integrity of the existing content and the transformational quality of the experience while moving to a completely virtual platform to extend our reach and relatability. We believe our approach to delivery of content and building of virtual small group community will translate well to other Christian studies.
So the next step is the BeADisciple Study app, which will be a completely online experience for Christian education, using Disciple I Fast Track as first offering.
Our vision is to have a mobile platform that promotes spiritual growth of Christian disciples via paced personal study and facilitated small group interaction.
For a guided walk through, please watch this video –
Key Components:
Convenient, easy, small group interaction and prayer (virtual or in-person)
Excellent Christian education content, reimagined to inspire regular study and reflection
All class materials, including the CEB Bible, delivered to smart phone or iPad, with note-taking ability and audio options
Embedded videoconferencing with one-click for online meeting
Participant study notes consolidated for ease of use during virtual live meetings
Self-paced leader training and all materials provided for very easy leading of groups.
The benefits of the app will include:
All assignments delivered daily on your phone or iPad, including the CEB Bible. No more printed materials to deliver.
Choice to read and/or to listen to assignments, including Scripture and to text or record answers to questions, notes, and comments.
Community with small group members through

Mid-week discussion threads and 24/7 prayer thread
access to group member-supplied contact info for easy communication between group members
small group and 1:1 discussion through either videoconference or in-person gatherings

Deepened prayer life through guided prayer and easily accessible small group prayer request chain. Members can be updated on prayer needs immediately!
Ability to be in small groups that can include members around the world or allow for any traveling not to miss a class session.
Leaders can easily communicate to their small group on the message board and can adapt the schedule as needed
Persons can choose to become a small group leader, trained within app and receiving all materials, including live small group meeting tools
For content owners – Ability to add features and modify content easily
Have questions? Check out our FAQ page; Otherwise, contact Kathy Armington, Director of App Based Learning.