September marks nine years that I have been with BeADisciple.com. Been with? That's not an adequate term. Worked for? Employed by? Involved with? Parented: that's the right word. This month marks nine years that I have been parenting BeADisciple.com. Where has the time gone? How has BeADisciple.com grown to this place?
I was a stay-at-home mom for 13 years. Well, I had a little scrapbooking business, but I was never very serious about it, and I found raising my three kids to be the important work to which God had called me. I was happy to consider myself an at-home mom and, along with my husband, got involved at our local church. We found Disciple Bible Study, in which we participated and later facilitated; we also became certified lay speakers.
Along the way, I dabbled in this ministry and that ministry trying to find my niche. I quickly learned that I wasn't very good with other people's children, especially in large groups. I could be hospitable, but I wasn't a particularly good evangelist. I eventually determined that God's call on my life was to provide educational growth experiences for adult Christians who are seeking to grow in their faith, but I had no idea at that time how I would carry this out.
But I did know that I loved to learn – academic learning, especially. I had always wanted to complete a Master's degree, so in 2004 I started a Master of Arts in Christian Ministry degree program. I loved my classes. I didn't know what I was going to do with the degree, but I felt that God was preparing me for something. I trusted Him with what that something would be. I finished the program and graduated in May of 2006.
After graduating, I started looking for work outside the home. Steve Wilke and his wife, Beth, are good friends of ours and Steve is our Sunday School teacher. He invited me to participate in one of his little projects: through the Richard and Julia Wilke Institute for Discipleship, formed to honor the life-long ministry of his parents, Steve wanted to utilize Southwestern College's software to provide online courses for Christian leaders. He thought I might like to be an online instructor.
I participated in the very first training workshop to learn how to be an instructor in September of 2006. By the second week, I was critiquing the experience and giving Steve all kinds of ideas to make it better. Steve listened, then asked to meet with me. You guessed it . . . I was offered a job shepherding the BeADisciple courses.
At first, all Steve could offer me were five paid hours a week. There was already one instructor; if I took over the training course to teach other people how to be instructors, I could also have the proceeds from that course. Soon, I was busy enough for ten paid hours a week, then 20, then 30, then finally, full-time.
Looking back, I now see how God used my past experience in scrapbooking sales, administration, Disciple Bible Study experience, small-group teaching, lay speaking, my Master's work, and yes, my parenting to help BeADisciple.com provide online educational opportunities for Christian leaders, lay and clergy, for effective living and ministry. I couldn't see it along the way, but God used my unique experiences to grow and prepare me for my current position of Director of Online Education for BeADisciple.com.
I think of BeADisciple.com as my fourth child. At first, Steve and I parented it along by ourselves. Now that we've hired an extensive staff in special projects, social media, marketing, and administration, it's almost like BeADisciple.com has gone off to Kindergarten. Others are coming into the life of the ministry to love it and guide, shape, and develop its growth just like I have. I can't hold it back and keep it to myself forever; I don't want to, and God wouldn't want me to.
BeADisciple.com will continue to grow and change, of course; but like a good parent I'm going to stick around to guide and protect it as it does.
---
Lisa Buffum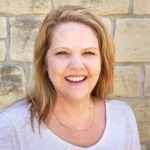 Lisa Buffum is the Director of Online Education for the Institute for Discipleship. She oversees BeADisciple.com and serves as our resident expert when it comes to online learning, course development, instructor training, and much more.