guest post by Val Isenhower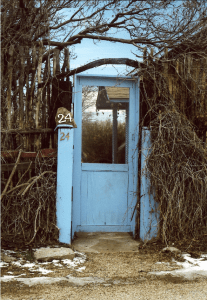 I saw this gate when I was in Rancho de Taos, NM, to photograph San Francisco de Asis Church. The gate leads to a home on the plaza beside the church.  The color in the midst of the dormant vines drew my eye.  I looked at the printed image when I picked it up from the lab.  I thought, that's nice, and then put the print away.  A year or so later when I was looking for another photo, I ran across this one. The Spirit nudged me to look deeply at the photo this time.  I spent time looking into the photo and realized the picture had so much to offer.
Christian spirituality includes a practice called lectio divina, meaning "sacred reading." We tend to read the Bible quickly, but lectio divina calls for reading the same verses many time over and slows us down so we hear what is on the page and begin to understand how it connects with our lives. We might call meditating on photographs like the one above visio divina or "sacred viewing." Visio divina involves the sacred viewing of images we recorded with our cameras. It can become a powerful tool for our spiritual journeys.
Often I have asked groups to meditate on this image allowing the Holy Spirit to draw them in and guide their sacred viewing of this turquoise door.  Folks share things like the following:
I was drawn to the house number 24/24 which signifies a whole number. Where am I seeing wholeness in my life?
The vines drew my attention. What part of my spiritual life is dormant or fallow?
I concentrated on the top of the gate. Am I looking through a window or is a mirror reflecting what is behind me?
I looked for a handle to open the gate. I cannot see one. Is it hidden? Am I supposed to go through or not?
Experiences like these are one of the reasons I love spirituality and photography.  I pray before I go out with my camera and pay attention to the leading of the Spirit while I am out receiving images.  The act of photography is a spiritual practice for me.  When I return home, I am gifted by the photos I was led to record.  My eyes are opened again when I share the photos with others.  Comments like those above allow me to view my images in new ways as I see them through the eyes of others.
I own a store in Old Town, Albuquerque.  I am often touched again as I watch customers gazing at my photos. One day a woman from South America came in and stood looking at my framed photos of doors. She turned around, faced me and then gave me a big hug.  Through the few words of English she knew and her hand gestures she shared with me that the photos touched her heart in a very deep place.  What more can an artist and a spiritual guide ask?
Portions of the above post are adapted from Meditation on Both Sides of the Camera: A Spiritual Journey in Photography by Valerie Isenhower (Upper Room Books, 2012)
---
Learn more about Val's process for taking and looking at photos from a spiritual perspective in her upcoming course, Meditation on Both Sides of the Camera, starting October 19.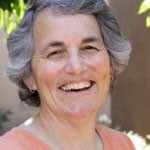 Valerie Isenhower is the owner of V. Isenhower Photography, and specializes in meditative photography. She offers workshops and retreats on spirituality and photography across the country and has written articles on the subject. Val's images have won awards and are currently displayed in several art galleries and have been on the covers of books and magazines. Val is one of the founders of Water in the Desert Ministries and specializes in using photography and visual arts in spirituality and in facilitating discernment processes for groups. Val earned an M.Div. from Central Baptist Theological Seminary, is an ordained American Baptist Minister and lives in Albuquerque, NM.