Derek Maul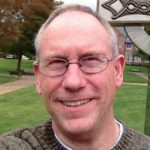 Derek divides his time – unevenly – between newspaper writing, penning magazine features, authoring inspirational books, public speaking, volunteering in his church and enjoying an amazing life with his wife, Rebekah. He writes a number of weekly columns for the Tampa Tribune (as well as other Florida news outlets) and a monthly commentary for The Presbyterian Outlook. His commentary and features have appeared in Newsweek, USA Today, The Christian Science Monitor, Presbyterians Today, Guideposts, and many other print and online publications.
Derek's first book, "GET REAL: a spiritual journey for men" was released in 2007; his second book, In My Heart I Carry A Star" debuted in the fall of 2008; his latest work – "The Unmaking of a Part-Time Christian " was released in September of 2009.
Derek is married to Rebekah, a Presbyterian pastor. They have two grown children: Andrew – who works in Bahrain, and Naomi – who lives in Connecticut with her husband, Craig. Their dog, Scout Labradoodle and their cat, Darth Maul, still live at home. Before becoming a full-time writer, Derek taught public school in Florida for eighteen years, including cutting-edge work with autistic children. He holds bachelor's degrees in psychology and education from Stetson University and the University of West Florida.
Derek is active in teaching at his church: adult Sunday school, small-group ministry, and a men's Bible study/spiritual formation group. He enjoys the outdoors, traveling, photography, reading, cooking, playing guitar, and golf.