Elise Hazel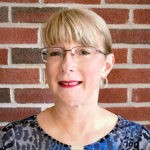 Dr. Elise Hazel is a retired school administrator and speech clinician from Central Pennsylvania.  She has 34 years of experience in speech therapy and school administration, including elementary principalship and central office administration in addition to K-12 speech therapy.
Dr. Hazel accepted Jesus as her personal lord and savior as a teenager and has a desire to help others know and grow in Jesus. Being retired provides her with an opportunity to be available in whatever way God needs her and to also take new courses and learn new skills.
Dr. Hazel has been a certified lay speaker in the United Methodist Church since 2008 and coordinates the Mifflin County HUB which includes 20 local churches.  The HUB works collectively to provide health kits and school kits for Mission Central in Mechanicsburg, Pennsylvania. Last year the HUB made 2109 health kits and 397 school kits.
Dr. Hazel enjoys gardening and sewing and is constantly entertained by her four housecats. She met her husband on a mission trip to Red Bird Mission. They attend Trinity UMC in Lewistown, Pennsylvania.