Evelyn Weaver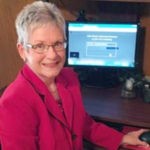 Evelyn came to know Jesus as her savior when she was a teenager in a small Methodist church.  Promising to use the Bible as her chart and compass through life was a turning point for her. As she faces life's challenges, she relies on God's word to guide and instruct her. She has taught numerous Bible studies, divorce recovery classes, and shared her testimony at women's retreats. As a caregiver herself, she wants to share what she is learning about caregiving with others as they travel together on that marathon journey.
In 2013, Evelyn's husband was diagnosed with Alzheimer's Disease. This meant a big change in their retirement plans, so she sought wise counsel and support. She learned that there is a wealth of help available and that there are many Christians who have already walked this valley.
Evelyn has a long history in education and has taught classes online since 1999. She enjoys getting to know people in an up-close and personal way even though she may never meet them face-to-face. Evelyn has a bachelor's degree in music education from Florida State University, a master's degree in elementary education, and a doctorate in curriculum development from Nova Southeastern University. Currently, in addition to teaching on BeADisciple.com, she teaches graduate-level education courses as an online instructor with Southern New Hampshire University.
After 30 years in Fort Lauderdale, Evelyn now lives with her husband near Houston, Texas, with their two 80-pound hound dogs, Hannah & Hooch.  After years in the big city, they're enjoying quieter country living!