Ginifir Giddinge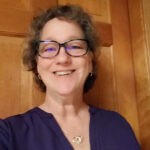 Ginifir Giddinge was a bi-vocational local licensed pastor serving for eight years in the United Methodist Church. In 2019, she felt the nudge of a call beyond the church building to serve the homeless youth population in a transitional living program.
Ginifir holds a B.S. degree in Human Services, and has taken theological course of study classes through United Theological Seminary. She is currently a deaconess/home missioner candidate. In 2018, she received her certificate in spiritual direction and congregational formation through the two-year Gateway to God training provided by the New England Conference of the United Methodist Church.
Ginifir is also a retreat leader and mindfulness nature connection guide. She recently led an online retreat for a group of United Methodist Women when meeting in person was not an option due to Covid19.  She has a passion for spiritual wellness and sharing ways of connecting with God in our daily lives.