Hilda Davis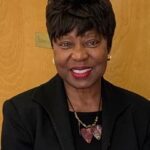 Hilda R. Davis, Ph.D., L.P.C., is an ordained Deacon in the Tennessee Conference of the United Methodist Church and has had the privilege of serving as a local pastor, an editor with the United Methodist Publishing House and first Project Manager for United Methodist Communications' Global Health Initiative.
Currently, she is the founder of Hilda R. Davis Consulting and has the honor of working with clients long-distance through technology, while remaining committed to delivering person-centered counseling. Her primary focus is the healing and wholeness of individuals, families, congregations, and communities.  Rev. Davis' work in local congregations led to the publication of her book for women, Live Healthy & Be Well: Create an Action Plan, which offers Bible stories, meditations, and activities designed to encourage holistic wellness.
Rev. Davis received her doctorate in Religion and Psychology from Vanderbilt University. She has both undergraduate and master's work in psychology and is a Licensed Professional Counselor in the state of Tennessee. She has a daughter, Erin A. Grimes, who makes her proud.
For more information about her book and for other wellness tools you can download, visit her website: www.hildardavis.com.