Jacob Sahms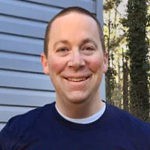 Reverend Jacob Sahms is a full-time elder in the Virginia Annual Conference of the United Methodist Church. In 2004, he connected with HollywoodJesus.com, a site then focused on reviewing film, books, TV, and music from a faith perspective. After stops as the Music and DVD editor, he was named Managing Editor from 2012-2015.
Leaving HJ, Jacob and another pastor launched ScreenFish.net to continue the vision of HJ to share the good news through media, while Jacob was also hired to run content for ChristianCinema.com, providing reviews and interviews with those making films. In late 2018, the Giving Company merged CC with several other companies, including the national film site Dove.org, and hired Jacob to continue coverage of films from a faith perspective across its network.
When he's not serving the church or covering film, Jacob can be found coaching his two sons in sports or catching up with his elementary educator wife.