Keith Giles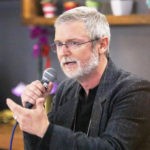 Keith Giles is a licensed and ordained pastor who left the pulpit over 10 years ago to start a house church that gave away 100% of the offering to the poor in the community.
He is the author of Jesus Untangled: Crucifying Our Politics To Pledge Allegiance To The Lamb and also Jesus Unbound: Liberating the Word of God from the Bible, both of which were published by Quoir Publishing.
Keith is also the co-host of the Heretic Happy Hour Podcast and blogs regularly at: www.KeithGiles.com
He and his wife, Wendy, have two grown sons who are currently attending college in Southern California. They live [for now] in Meridian, Idaho.