Kirk Reid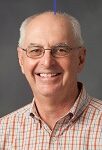 Kirk is a testament that one cannot outrun God's call. After years of avoiding it, and with the guidance of the Holy Spirit and his Disciple Bible Study colleagues, Kirk responded to God's call to become a Lay Servant in the United Methodist Church in 2003. Since then, Kirk has actively pursued this call, serving in missions, Sunday school, and as a confirmation mentor. He has facilitated many Disciple Bible Studies and numerous small study groups.
In 2015, Kirk retired from Hallmark Cards after 40 years of service.  Besides trying to improve his golf game, he has in retirement completed the work to become a Certified Lay Speaker in the United Methodist Church, and completed the Wesley Academy certification offered through Wesley Seminary and Southwestern College. One of the greatest benefits of retirement has been the opportunity to worship and share God's word with Chrisitans beyond the walls of his local church.
Kirk is a native Kansan, growing up in Manhattan and graduating from Kansas State University.  He and his wife Kim currently live in Olathe, where they are members of Grace United Methodist Church.  Kirk is part of the Adult Discipleship team and Kim sings in the choir. Kirk and Kim have a daughter, Julienne, who lives in Missoula, Montana with her husband Andrew.