Laurence J. Greenwood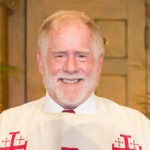 Rev. Larry Greenwood served the United Methodist Church for 43 years of delightful pastoral life in the Great Plains Conference.
Pastor Greenwood embodies his value of the local church as the 'true village of life' in his pursuit of excellence for his own ministry and in coaching and encouraging other local church pastors, lay workers and congregational workers and leaders. Always looking for graceful ways to assist others to be effective Distributors of Grace, Larry brings his view of the Bible as our strong companion and guide for our journey to an imaginative and energetic method of Bible understanding and teaching.
Raised by Vikings on Cape Cod and the banks of the Arkansas River in Kansas, Larry grew up as a Boy Scout across the prairie while enjoying sailing along its scattered lakes and streams. He and his bride of 50 years, whom he met in MYF, enjoy the company of their 2 children, 4 grandchildren and the many friends in their extensive church family.