Marla Laney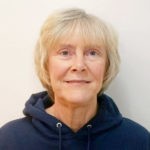 Marla Laney is a Certified Lay Minister with the United Methodist Church. She is the author of Somewhere Under the Rainbow, a book which poignantly captures her struggle with bipolar disorder and praying that God will offer relief.
Marla is a Certified Peer Supporter. She facilitates a mental health support group at Erie Shore Network, Inc., a consumer operated service in Sandusky, Ohio. In addition, she trains the mentally ill in a Wellness Recovery Action Plan (WRAP). She is active in church, where she co-facilitates a Bible study and fills the pulpit of area churches as needed. She is a member of Trinity United Methodist Church, the District Committee on Ordained Ministry and the District Committee on Lay Servants.
Marla lives with her husband, Tom, two dogs, and one cat in Sandusky, Ohio. She enjoys reading, taking classes, working with the mentally ill, and serving her church in various ways.