Michelle Moore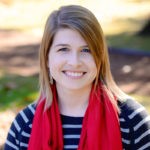 Michelle Moore is the Director of Program and Marketing for Camp and Retreat Ministries and the Youth and Young Adult Coordinator for the Arkansas Conference of the United Methodist Church.  She has been involved in Youth Ministry roles ranging from volunteer, intern, part-time, and full-time roles for more than 12 years. Additionally, she serves in a volunteer role as Adult Coordinator for the Arkansas Conference Council on Youth Ministries, overseeing youth and adults who are charged with planning seven state-wide youth events each year.
Michelle is a 2006 graduate of Hendrix College from which she received a degree in Religious Studies. She also holds a Masters in Specialized Ministry with an emphasis in Youth Ministry from Southwestern College. She recently finished her Certification in Youth Ministry through Perkins School of Theology.
Michelle is married to Brad and has a beautiful, goofy and energetic son named Tucker. She loves to clean, organize and find ways to be more efficient and productive!  You can read more organization tips and tricks on Michelle's blog at www.nomoremanicmondays.com.