Teresa Banner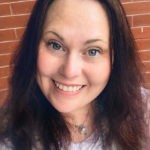 An Army spouse of 12 years, Teresa is passionate about serving military families. Her previous work experience includes parent education and support for military families with small children, and ministry with youth and young adults and their families. Living in several different communities has provided Teresa with opportunities to serve with a variety of ministry programs within the United Methodist and nondenominational congregations where her husband's Army career has brought their family.
A registered nurse, Teresa completed undergraduate nursing schoool (2009) at Prairie View A&M University, a Master of Science in Family Studies (2016) from Texas Woman's University with the Certified Family Life Educator (CFLE) credential, and a Certificate in Christian Education (2019) from Asbury Theological Seminary.
Teresa is married to Craig, and they have two children, Lincoln and Annabelle. They have previously lived in Fort Hood, Texas; Fort Lee, Virginia; Fort Stewart, Georgia; Houston, Texas; Fort Leavenworth, Kansas; and now call Hawaii home!
Teresa is passionate about building bridges between military and civilian communities, and hopes to provide course participants with not only fresh knowledge about the common experiences, challenges, and numerous strengths of today's military families, but with practical ideas on how to connect with military friends, neighbors, and congregants in their local communities.