Quick Info:
Number of weeks: 4
Price: $45
CEUs: 2.0
Required books?: No
Live video session?: No
Part of a certification or series of courses?: No
Being a caregiver is tough work — whether part-time or full-time.  If you are a family member, paid companion, or someone who seeks to support a caregiver, this course gives you the tools and support you need to maintain your own physical, emotional, and spiritual health as you care for others.
In caregiving, as in all marathons, respect is not always earned by the "fastest" or "best," but by the one who endures and triumphs in the long run. This training supports caregivers and those supporting them so they can finish the run with love and grace. In this course, caregivers & supporters will learn how to build their physical and emotional stamina, how to handle their charge's changing emotional and physical health, and learn how to develop a support team of professionals, family, and friends. We'll also read Biblical passages that will encourage and strengthen you and make laughter a priority to lighten your day and speed you on your way.
Even if you are not a caregiver yourself, but are wondering how to minister to caregivers in your family or church fellowship, this course can help.  We'll mention ways in which family, friends, and professionals can assist caregivers, especially those caregivers taking the course. While most of the material is aimed at caregivers themselves, anyone seeking to have a better understanding of what the job of a caregiver is like will benefit from this course.
Join us for this interactive overview of the most current research and literature written specifically for today's caregivers. Come be supported and encouraged by others who by God's grace and love have made it through the caregiving marathon!
This course is eligible for 2.0 CEUs.
About the Instructor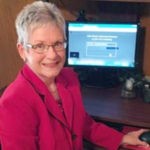 Evelyn Weaver came to know Jesus as her savior when she was a teenager in a small Methodist church.  Promising to use the Bible as her chart and compass through life was a turning point for her. As she faces life's challenges, she relies on God's word to guide and instruct her. She has taught numerous Bible studies, divorce recovery classes, and shared her testimony at women's retreats. As a caregiver herself, she wants to share what she is learning with others as they travel together through this marathon.
In 2013, Evelyn's husband was diagnosed with Alzheimer's Disease. This meant a big change in their retirement plans, so she sought wise counsel and support. She learned that there is a wealth of help available and that there are many Christians who have already walked this valley.
Evelyn has a long history in education and has taught classes online since 1999. She enjoys getting to know people in an up-close and personal way even though she may never meet them face-to-face. Evelyn has a bachelor's degree in music education from Florida State University, a master's degree in elementary education, and a doctorate in curriculum development from Nova Southeastern University. Currently, in addition to teaching on BeADisciple.com, she teaches graduate-level education courses as an online instructor with Southern New Hampshire University.
After 30 years in Fort Lauderdale, Evelyn now lives with her husband near Houston, Texas, with their two 80-pound hound dogs, Hannah & Hooch.  After years in the big city, they're enjoying quieter country living!
Past Students Said…
"The course included a tremendous amount of directly applicable information.   It was an excellent experience."
"As for the course, I can say nothing but good things about it! I thought I knew a lot about caregivers due to my own experience with my mother and father (he had Alzheimer's), but there was so much more affecting caregivers that I didn't know or think about.  I found the resources extremely helpful and will use them in my own church and our ministry to help our congregation members who are dealing with the overwhelming stress care giving places on them.  I also felt the warm support of others who are facing their own struggles and yet were so willing to share their stories and words of support with me.  I sincerely hope that this course will be offered to others in the future so that they can benefit from it as much as I have!"
"I gathered a wealth of information, I learned a few things about me a long the way. I will have to call on what I learned in the near future and this instructor was most excellent, very supportive and informative. I liked that I felt I could work on it on my own time schedule which helped me so much as my life is hectic. I would highly suggest this course for all caregivers."
"The discussion questions were very thought-provoking and encouraged me to examine my thoughts, actions and reactions that will make me a healthier caregiver."
"Thank you!  This course has helped me a lot!  This is one of the best Cont Ed programs I have done in recent years."
"I was very pleased with the comprehensiveness, the feedback of the instructor and the organization of the course. I have been recommending it to fellow layspeakers in my church."