Quick Info:
Number of weeks: 7
Price: $65
CEUs: 1.0
Required books?: Yes
Live video session?: No
Part of a certification or series of courses?: No
We are in new times for doing ministry work. The question remains how do we encourage and provide support for of those in our pews to do the work that Christ is calling us to? We have a new opportunity to be the church of today. We have an opportunity to spread God's Word of Love, Grace, Mercy, Peace, Hope and Joy.
Some pastors and church leaders are worried that people will be out of the habit of attending Worship and other activities at a church building after being away. We are to be the church not just in the building, but also in our homes and in our communities. There are ways that we can keep in contact with our congregations and be the church that we are being called to be at this time and to be there for people who are searching for the support we offer all the time.
Join me in this course as we work together in developing new ways of being the church in the world that needs spiritual care, pastoral care, care from neighbors and a sense that things will be okay. It is a lot to manage, but our congregations have the gifts to do the work that God is calling them to do and to be the disciples your local area. 
You'll need a copy of the following book for this class:
This course will run for 7 weeks and is eligible for 1.0 CEU.
About the Instructor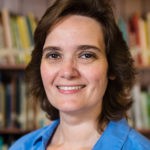 Harriet has two bachelor's degrees and a Master of Divinity degree. She has a Bachelor of Science degree in Business Administration/ Management and a Bachelor of Arts degree in Critical Communications. In 2015 Harriet completed her Master of Divinity degree at Claremont School of Theology (https://cst.edu/).
Harriet's early days in ministry revolved around Christian program development for children, youth, and young adults. Her ministry work started as a volunteer in her local church, which then led to paid staff positions in churches. Since July of 2015, she has been appointed as a licensed local pastor.
Harriet continues to be an advocate for People with Disabilities, Caregivers, First Responders, Veterans, and their families.
Harriet currently offers a free resource called Creative Adventures Through the Bible. You can sign up for the resource at The Lighthouse Design Studio: https://thelighthouse-design-studio.mn.co/