Quick Info:
Number of weeks: Self-paced
Price: $50
CEUs: 0.5
Required books?: Yes
Live video session?: No
Part of a certification or series of courses?: No
Do you have people in your congregation who are missing out on DISCIPLE because of their schedules? Are there some whose travel keeps them from committing to a weekly class meeting? Are there some who might like to take DISCIPLE with others who have a similar life experience? How about the appeal of participating in a serious, transformational Bible experience with other Christians from around the world?
The Institute for Discipleship is providing an opportunity for Christian leaders to participate in DISCIPLE Bible Study – online!
In this workshop, DISCIPLE Bible Study facilitators will learn how to facilitate this amazing, life-transforming 34-week walk through the Bible in an online format using one of the top educational online software packages available. Used primarily for college online course curriculum, BeADisciple.com offers this software for use for online workshops and other educational opportunities to nurture and enrich Christian leaders, lay and clergy, for effective living and ministry.
What better way to nurture and enrich Christian leaders, and to make disciples of Jesus Christ, than through DISCIPLE Bible Study?
The training course is now being offered in a self-paced format to meet the demands for the training. Participants will move through the training materials at their own pace with pauses to interact with Lisa, the IFD Director of Online Education. This training costs $50, and it takes approximately 10 hours to work through the materials. After training is complete, facilitators may use the Disciple Online software materials to lead a group of participants through the 34-week study.
Requirements: High speed internet access, a Disciple Bible Study student manual, a DBS facilitator's guide (Teachers Helps), a microphone and earphones or headset, and an adventurous spirit and desire to lead others to study the Bible in a new way!
Please allow two full business days for us to process your enrollment and open the course for you!
About the Instructor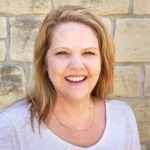 Lisa is the Director of Online Education for the Institute for Discipleship, overseeing the ministries of BeADisciple.com. Lisa completed a Master's degree in Christian Ministry from Friends University in Wichita, Kansas, in May of 2006.
She is the mother of three children and her family is very active as lay members at First UMC in Winfield, Kansas. Lisa teaches IFD100 How to Provide Your Course Online and other courses as needed, and provides technical assistance for instructors and participants for every IFD course.