Quick Info:
Number of weeks: Self-paced
Price: $20
CEUs:
Required books?: Yes
Live video session?: No
Part of a certification or series of courses?: No
This is training for anyone who wants to learn to facilitate an "on the ground" DISCIPLE Bible Study in their local church.  This training is not for those who want to facilitate a DISCIPLE group online.
What better way to nurture and enrich Christian leaders and to make disciples of Jesus Christ than through DISCIPLE Bible Study?  DISCIPLE is a wonderful study which makes use of unique facilitation techniques.
This self-paced training has been created to address the demand for the facilitator training for DISCIPLE Bible Study. It includes many of the principles and techniques which were taught in the original live DISCIPLE trainings hosted through the United Methodist Publishing House.  In this online course, participants will come to understand what makes DISCIPLE unique, how to implement the study in their church, and what their role as leader should look like.  It includes resources, quizzes, and Lisa's personal reflection as an experienced DBS facilitator.
Required Materials:
DISCIPLE Implementation Resource (download only)
DISCIPLE Teacher Helps
DISCIPLE Student Manual
DISCIPLE Free Downloads from Cokesbury
Teaching the BIBLE to Adults and Youth by Dick Murray (optional resource)
*Please note: You will need to access this course from a laptop or desktop computer in order to view the videos embedded in this course; they will not play on a tablet or phone.
Please allow two full business days for us to process your enrollment and open the course for you!
About the Instructor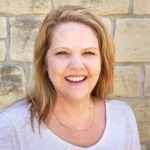 Lisa is the Director of Online Education for the Institute for Discipleship and oversees the ministries of BeADisciple.com. She has been active in DISCIPLE Bible Study since 1997 and has facilitated all four of the long-term studies. Lisa has also worked with DISCIPLE author Dick Wilke for a number of years and has adapted several of his studies for an online format on BeADisciple.com.
Lisa, who was trained in DISCIPLE at one of the original training sessions hosted by the United Methodist Publishing House, developed this self-paced DISCIPLE training as a way to meet the need for training for new facilitators of this unique study.  She will continue to be a source of support and encouragement to facilitators after they complete the course and begin to lead DBS and provide in-depth Bible study to their local church in a physical setting.