Quick Info:
Number of weeks: 2
Price: $125
CEUs: 1.0
Required books?: Yes
Live video session?: No
Part of a certification or series of courses?: No
The book, I Am My Own Sanctuary: How A Recovering Holy-Roller Found Healing and Power by Meggie Lee Calvin is, as Dr. David Dault from NPR's "Things Not Seen" called it, "a full-steam comedic rant." It encourages other recovering holy-rollers to own the power of the Divine within, and take back power from others over their lives.
Through videos, reflection questions, supplemental podcasts episodes, and articles course participants can expect:
A strategy to build boundaries with toxic personalities in your life
An understanding of how to set up your brain for optimal productivity and presence
Helpful tips to discern your vocational calling
Ideas for self-care that honor the mind, body, spirit, and soul connection
Practical steps to get rid of limiting beliefs around your ambition and goals
A chance to laugh while reflecting over questions of self-worth and faithRediscover the power of the Holy Spirit within you and register today.
Grab your copy of I Am My Own Sanctuary today.
This course is worth 1.0 CEUs.
Past Students Said…
"I thoroughly enjoyed it. Meg is so fun to listen to and learn from. All the others who participated were really nice. I feel like I'm definitely walking away with some new found knowledge about myself." -Jessi Ramirez
About the Instructor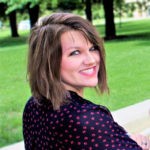 Meggie Lee Calvin (Meg) is an Amazon bestselling author, wife, mom, speaker, podcaster, and coach who helps her fellow spiritually-attuned go-getters find confidence and certainty in who they were meant to be.
After serving as a minister to children and families at a mainline protestant church for over a decade, she now serves as Director of Engagement for the Institute for Discipleship. Her days include such fun as: recruiting participants and instructors for BeADisciple.com, producing and co-hosting the Listening Chair podcast, coaching content creators in the creation and marketing of their content, and writing and speaking about "grit and grace" to her tribe.
Her first book, The Bluebonnet Child: Finding Grace in Poor Soil (Wipf & Stock) equips readers to offer hope to kids whose homes seem hopeless. Her second book, I Am My Own Sanctuary (Quoir) reads like Seth Myers and Joan Chittister, the Benedictine nun, conceived a book-baby. This "full-steam comedic rant", as Dr. David Dault of NPR's "Things Not Seen" called it, was written for other "recovering holy-rollers" and encourages them to own the power of the Divine within to take back power from others over their lives.
Meg has been featured on NPR and has served as a workshop presenter at both state-wide and national conferences.
Fellow spiritual satirical writer, David Hayward (AKA the NakedPastor) had this to say of Meg's latest book,
"If you want to read a book about taking good care of yourself that is approachable, honest, wise, and funny, then read this one. It's an enticing, educating, encouraging, and entertaining read. Actually, all those adjectives describe Meg, too!"
She has a BA in Religion and Philosophy from Southwestern College of Kansas and an MA in Children's and Family Ministry from Bethel Seminary of Minnesota. Meg earned her Certification in Mindfulness at Wichita State University under Cyndie Koopsen and Caroline Young, authors of Spirituality, Health, and Healing and Integrative Health. She is a member of the 2019-2020 cohort of the Foundations of Christian Leadership program at Duke Divinity School.
Meg is obsessed with Saturday Night Live and loves to hunt for antiques, learn Spanish, and line dance. She and her husband spend most of their free-time by the chimenea with some classic rock music or playing board games with their daughter.