Quick Info:
Number of weeks: 2
Price: $40
CEUs: 1.0
Required books?: Yes
Live video session?: No
Part of a certification or series of courses?: No
This course uses the materials previously scheduled for United Methodist Women's Mission U for 2020 which was cancelled. Now more than ever anxiety has a grip on our physical, mental, spiritual, and emotional selves. Using a variety of methods, you will be able to identify ways to better control your anxiety.
In this COVID-19 world, there is a need for some honest introspection, and this course will guide your introspection. Will it solve your anxiety and fix all of your problems? No, it's not a miracle course, but it will help you to learn how to cope with those problems.
Using the Serenity Prayer as a guide, this course will take you places you need to be and show you things you need to see in order to live a healthier life. This course is open to all, man or woman, and all denominations. Come and explore an end to your anxiety. We do have hope for a healthier existence.
Students are required to have the following book:
Finding Peace in an Anxious World, edited by Erin James-Brown
Available in Kindle version and paperback.
This course is worth 1.0 CEUs.
About the Instructor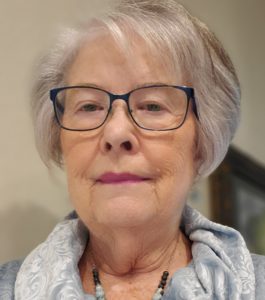 Donna Jensen returned to College as a adult to obtain her teaching credentials and ended up staying for her Masters in Secondary Education (English and Speech Communications). But, after that, she was offered the position of Director of Advising for secondary and elementary education majors at the University of Maryland, College Park, MD.  Since 1977 she has been an active member of United Methodist Women, and has served as a local, district, and conference officer in three conferences. Previously taught 1 day Mission U, and had plans to teach in two districts this year as well until Mission u was cancelled. She has also planned and given many Spiritual Growth Retreats for various churches and United Methodist Women organizations. While living in Arizona she taught a Creative Writing Class and also taught classes on writing obituaries. She is a wife, mother, grandmother, responsible pet owner of one shih 'tzu and three cats, Christian, Emmaus pilgrim, Native Texan, Bible reader, bodacious reader, writer of fiction, nonfiction, and with a somewhat wicked sense of humor (not in that exact order). She has traveled extensively and lived in the Middle East for 8 years as well as living in 8 states and working for the US Air Force and US Navy as a civilian.