When Ash Wednesday falls on Valentine's Day and Easter is April Fools' Day, as happened in 2018, you might start to wonder about God's sense of humor. Join us for a Lenten retreat with weekly reflections on scripture, discussion with other participants, and a different spiritual practice or action to take each week. We will explore the apparent foolishness of a faith based on love, grace, vulnerability, and justice, as we walk with Jesus and the disciples toward Jerusalem and the cross.  There are no required materials for this course.
This course is eligible for 1.0 CEU.
Quick Info:
Number of weeks: 7
Price: $45
CEUs: 1.0
Required books?: No
Live video session?: No
Part of a certification or series of courses?: No
About the Instructor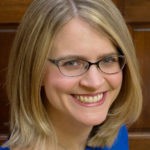 Rev. Kerry Greenhill is an ordained United Methodist Deacon and founding member of Sacred Stones Ministries, Inc., a non-profit consulting group that seeks to equip individuals and Christian communities to connect more deeply with God, with each other, and with the world. The deacons of Sacred Stones support clergy and lay leaders by staffing small churches on a "circuit rider" model, creating written resources for worship and faith formation, teaching classes and workshops, and leading retreats and mission trips that inspire, empower, and transform. Learn more at www.SacredStonesMinistries.org.
Rev. Greenhill loves reading, television costume dramas, tea, and dark chocolate, and lives with her family and two cats in Westminster, Colorado.
Past Students Said…
"I loved the idea of tying Lent together with Valentine's Day and April Fool's Day – both secular, but we are part of this secular world. The lessons were very well thought out and the lessons thought provoking and meaningful."