Quick Info:
Number of weeks: 2
Price: $55
CEUs: 1.0
Required books?: No
Live video session?: Yes (Optional)
Part of a certification or series of courses?: No
As churches realize that the move into online worship, study, and meetings during covid19 might have long term ramifications, this course will provide you with valuable information for considering a transition back to in-person worship as well as maintaining a vital online presence.
The course will focus on discussions about the media involved and the markets congregations may be developing, how to show professional excellence in both in-person and online ministries, how to keep your ministry secure especially in light of covid19, what to expect financially, and how you might build participation.
To receive a completion certificate, participants will need to post and respond to at least two other participants each day.
**The instructor will offer an optional Zoom meeting for discussion and use a Doodle to find times that work for the most people.
This course is eligible for 1.0 CEU.
About the Instructor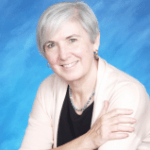 Beth Perry was ordained in the United Methodist Church but now has Privilege of Call in the United Church of Christ. She graduated from Princeton Theological Seminary in 1994 and has a Bachelor's degree in Business from Elizabethtown College. In addition to 20 years of pastoral and chaplaincy experience, she teaches religion, philosophy, critical thinking, sociology, and general education courses for the University of Phoenix in New Jersey and Mercy College. She has been active in Safe Sanctuary/Safe church training for a decade or more, and a consultant for more than 150 congregations working to reduce the risk of abuse in the church. She also leads workshops and retreats on Spiritual Gifts, meditation, and mysticism. Her courses, Rediscovering Our Spiritual Gifts, Leading Bible Study: Biblical Interpretation, and Teach Adults are approved as advanced courses in Lay Servant Ministries and Rediscovering Our Spiritual Gifts meets one requirement towards lay speaker status.