Leaders of adult ministries, trustees, and pastors often recognize that vulnerable adults – and the volunteers who work with them – are at risk of abuse or accusations of abuse, without knowing how to reduce that risk.
This course will help congregations to 1) define who is – or might become – a vulnerable adult, 2) recognize areas of ministry that might provide potential for abuse, and 3) create an effective policy to fit church ministries!
Learners should expect to spend an hour a day online in reading and viewing information and responding to Discussion Board Questions, learning from the instructor and the materials, as well as from discussing each other's experiences.
Joy Thornburgh Melton's book, Safe Sanctuaries: The Church Responds to Abuse, Neglect, and Exploitation of Older Adults, is recommended.
This course is eligible for 1 CEU.
Quick Info:
Number of weeks: 2
Price: $60
CEUs: 1.0
Required books?: No
Live video session?: Yes, optional
Part of a certification or series of courses?: No
About the Instructor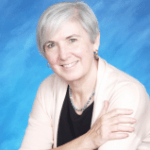 Rev. Beth Perry has been active in Safe Sanctuary/Safe Church training for more than two decades, and a consultant for hundreds of congregations working to reduce the risk of abuse in the church. In addition to attending training by Joy Thornburg Melton, she has done extensive independent research on the value of risk reduction policies and offers up-to-date information, ideas, and techniques.
Past Students Said…
"Beth did an excellent job keeping up with all of us coming in with very different backgrounds and at different points in the process.  I really liked that she split those that were editing/updating from those starting from scratch. The materials she shared were extremely helpful and after I get a chance to really digest them all, I will have an even better understanding of the topic!"
"I do feel after this workshop that I have a clearer vision and strategies on how to move forward with the process of writing the policy and implementing the policy.  I love having perspectives from participants who already have a SS policy in place and understanding their challenges and benefits of the policy."
"Safe Sanctuaries is a vital part of any churches response to its community of believers and to the greater community at large.  This course will not only give you and your church the tools needed to write an effective policy, but also the tools to implement that policy and to help Safe Sanctuaries become an integrated part of life in your church."
"Before we started, I was concerned about having time to work on the course every day.  As it progressed, I saw that it was a well developed way to fit a lot of information into a relatively small amount of time.  It was great to learn so much, so quickly!  Thanks!"
"It was good to have the experience of "chatting" with others to get different perspectives and ideas for writing a complete and relevant Safe Sanctuaries Policy."