Quick Info:
Number of weeks: 2
Price: $45
CEUs: 1.0
Required books?: No
Live video session?: No
Part of a certification or series of courses?: No
Have you ever wanted to give your testimony or recount your religious conversion or experience? Even though we all live busy lives, it is important to set aside time with God to reflect on your faith and belief in his wonderful creation. Part of that creation is you! How did you come to know and believe in God? By giving our testimony, you can help others come to God. It is a powerful tool in evangelism!
This course is designed to help you develop your own personal Christian testimony. Each person's unique story needs to be written down and verbalized. Whether you tell your story one-on-one, to your congregation, or as a professional speaker, it is important if we want to bring God's love, truth, mercy and grace to others.
In the first week, you will learn the various parts of a testimony, organize your thoughts, and begin a draft of your testimony. In the second week, you'll build on your draft and write a synopsis of your testimony for the class.
Upon completion of the course, you will have your testimony about how you came to Christ in written form and will be ready to tell it to anyone!
This course is eligible for 1.0 CEU.
About the Instructor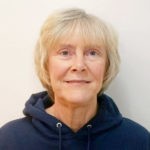 Marla Laney is a Certified Lay Minister with the United Methodist Church. She is the author of Somewhere Under the Rainbow, a book which poignantly captures her struggle with bipolar disorder and praying that God will offer relief.
Marla is a Certified Peer Supporter. She facilitates a mental health support group at Erie Shore Network, Inc., a consumer operated service in Sandusky, Ohio. In addition, she trains the mentally ill in a Wellness Recovery Action Plan (WRAP). She is active in church, where she co-facilitates a Bible study and fills the pulpit of area churches as needed. She is a member of Trinity United Methodist Church, the District Committee on Ordained Ministry and the District Committee on Lay Servants.
Marla lives with her husband, Tom, two dogs, and one cat in Sandusky, Ohio. She enjoys reading, taking classes, working with the mentally ill, and serving her church in various ways.