Quick Info:
Number of weeks: 3
Price: $50
CEUs: 1.5
Required books?: Yes
Live video session?: No
Part of a certification or series of courses?: No
Each of us is called to share our faith in obedience to the Great Commission. The Second Greatest Commandment (Matthew 22:36-40) tells us to love our neighbors as ourselves and The Great Commission (Matthew 28:16-20) tells us to go and make disciples. By combining these two commandments from our Lord, we are able to share our faith with those around us in a natural way. During this course you'll learn about ways you can share the Gospel that are both comfortable for you and effective; it is all about sharing the love of Christ by building relationships with those around you and allowing the Holy Spirit to work through you as your relationships progress.
This course is for everyone – you don't have to be a Christian for several years or a seminary trained theologian – God uses ordinary people! You will need the book, The Second Greatest Commandment Meets the Great Commission: How to Love Your Neighbors to Christ, by Nancy Golden, which may be purchased at Nancy's website.
During the course you will learn about why and where you should evangelize and how to go about it, with plenty of examples and encouragement along the way. You should find it very convenient to fit this study into even the busiest of schedules, yet gain the tools you need to approach evangelism with joy and confidence. It is our hope that you find this course a blessing as you strive to share God's incredible grace through His Son Jesus Christ with those who like each of us, are in desperate need of our Savior!
1.5 CEUs are available upon successful completion of this course.
About the Instructor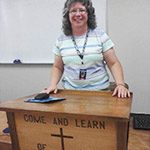 Nancy Golden has a passion for sharing her faith and a heart for people of "every tribe and language and people and nation." She graduated from Dallas Christian College and earned her master's degree from Liberty Baptist Theological Seminary. Nancy's seminary work included theology and Bible with an intercultural studies focus. Her passion for evangelism led her to author a book, The Second Greatest Commandment Meets the Great Commission: How to Love Your Neighbors to Christ (HIS Publishing Group, 2013). She authored a second book, Taking Back Advent: Moving from the Mundane to the Miraculous (Golden Cross Ranch LLC 2018) in the same easy-to-read style to bring a satisfying component to each day of the Christmas season.
Nancy is an adjunct faculty member at Dallas Christian College and has taught How to Study the Bible, New Testament Survey, and World Religions. In addition, she has developed a cross-cultural missions course for Dallas Christian College that incorporates both the theology and the history of missions.
Nancy and her husband Phil are are members of the Carrollton Church of the Nazarene in Carrollton, Texas. Nancy is very active at her church and she is also the Director of the Carrollton League of Writers, an outreach of the church that provides their weekly meeting place. When she is not busy with her family, students, and church activities, Nancy can be found riding her horse, Pistol, who fortunately does not mind listening to her sing praise and worship songs!
Visit Nancy's website to learn more about how to share your faith.
Past Students Said…
"Evangelism you can use! The book and course show you how anyone can bring others to Christ; not a bunch of theories or systems, just simply how to share the love of Jesus with another and give them the path to salvation. … I've gone to a LOT of evangelism classes–none of them were as "user friendly" as the methods taught in your book."  — Pastor Shaun Smith
"I feel SO empowered to evangelize people now. I've been to several evangelism classes, and while they were helpful, the intimate tools of one-on-one evangelism were not there. They helped me connect better to people and I have been blessed to bring some people to/back to Christ, but it never felt like I was being as successful as I could be. Now I know I can talk with some one, or a group, and effectively communicate the gospel with them every time!!"
"I am trying to begin to share my faith with people. I want to talk with others about Jesus. I took this course and read Nancy Golden's book because it seemed to offer a different approach. I feel that some of the classic techniques turn people off and I am not comfortable with them. I was not disappointed. I learned a lot from this course/book. It offers multiple ways to approach many different kinds of people. It offers a chance to practice. I need a lot of practice!" — Deb Montgomery, Tennessee
"This class will open your eyes to the many doorways of opportunity to be a witness to the faith. I encourage pastors and laity alike to take advantage of this learning experience. I have no doubt that your entire church and community will benefit."  — Rev. Thomas B. Shepherd, Virginia
"I think the value of this course for me was the way that the material and questions helped me reflect on my personal evangelism efforts and apply it to my own situation. I really liked the use of personal anecdotes from Nancy's life experience as it helped me understand the application of the information she offered us." — Rev. Jim Richards, West Virginia
"I have really appreciated the class because of the topic matter.  I think it was great that there was open discussion where we could respond to one another and then the journal entry where it was more private.  I thought the material was presented well and the book was a wonderful read – not too overwhelming." — Beth Holz
"Feeling a passion for Evangelism, I enrolled in the course and before it was over not only did I understand what evangelism was about, I actually knew how to go about doing it. Nancy Golden has such wonderful concrete ideas to help with your journey to evangelize. Her book was well written and the course expounded it greatly. If you think you have a passion for Evangelism this is the place to start!"