Quick Info:
Number of weeks: 2
Price: $55
CEUs: 1.0
Required books?: No
Live video session?: No
Part of a certification or series of courses?: No
This course is unabashedly taught from a Christian perspective, with the goal of helping the learner become more comfortable with people of other religions so that they can increase their effectiveness in sharing their faith with those from other countries who have moved into their neighborhood. To that end, not only are facts presented regarding the religions under study, supplemental activities are included in order for the student to come to understand the adherents of each faith on a more personal level – in order to facilitate friendships with people that practice other religions so that as 1 Peter 3:15 tells us, "But in your hearts revere Christ as Lord. Always be prepared to give an answer to everyone who asks you to give the reason for the hope that you have. But do this with gentleness and respect," you are able to share the truth of the Gospel to a world that desperately needs to hear it.
No book is required, rather we will have video lectures and supplemental activities that are all available to you through the course during our two weeks together.  We will be examining Judaism, Islam, Hinduism, and Buddhism. This is a survey course – we won't be going into tremendous depth due to time constraints and the goals of this course – you will be learning the basics of each religion under study but you will also be spending time viewing material that helps you understand on a more personal level the people who practice these religions so that you can be more comfortable interacting with them. God bless you as ambassadors of Christ to the nations – in your own backyard!
1.0 CEUs are available upon successful completion of this course.
About the Instructor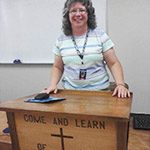 Nancy Golden has a passion for sharing her faith and a heart for people of "every tribe and language and people and nation." She graduated from Dallas Christian College and earned her master's degree from Liberty Baptist Theological Seminary. Nancy's seminary work included theology and Bible with an intercultural studies focus. Her passion for evangelism led her to author a book, The Second Greatest Commandment Meets the Great Commission: How to Love Your Neighbors to Christ (HIS Publishing Group, 2013). She authored a second book, Taking Back Advent: Moving from the Mundane to the Miraculous (Golden Cross Ranch LLC 2018) in the same easy-to-read style to bring a satisfying component to each day of the Christmas season.
Nancy is an adjunct faculty member at Dallas Christian College and has taught How to Study the Bible, New Testament Survey, and World Religions. In addition, she has developed a cross-cultural missions course for Dallas Christian College that incorporates both the theology and the history of missions.
Nancy and her husband Phil are are members of the Carrollton Church of the Nazarene in Carrollton, Texas. Nancy is very active at her church and she is also the Director of the Carrollton League of Writers, an outreach of the church that provides their weekly meeting place. When she is not busy with her family, students, and church activities, Nancy can be found riding her horse, Pistol, who fortunately does not mind listening to her sing praise and worship songs!
Visit Nancy's website to learn more about how to share your faith.
Past Students Said…
"The instructor's videos and supplementary materials were concise, yet extremely informative.  Several of the supplemental videos piqued my interest, so much so, that I used them in my mid-week Bible Study!  Thanks, Nancy, for a well developed survey course on World Religions."
"I have learned so much in this brief class!"
"I learned what is often reported as truth relative to faiths different from our own is often not factual. Know the facts!  It makes for a more interesting conversation!"
"Nancy, let me thank you for a very well-organized, well-presented course. I have had a number of courses in the various religions. Still, I learned quite a bit from this one, especially in the area of Hinduism."
"Nancy, the facilitator/instructor was great. She was very responsive to the discussion board and offered new insights when questions were asked. She was very willing and accepting of all thoughts and opinions. Also very knowledgeable. Even though it's a quick summary of four religions, there is a lot of work for a two-week course. I think it helps to know this ahead of time and be willing to commit yourself to the process. It is well worth it. Thanks Nancy!!!!"