Quick Info:
Number of weeks: 4
Price: $95
CEUs: 2.0
Required books?: Yes
Live video session?: No
Part of a certification or series of courses?: No
If you know it's important to study God's Word, and you want to read your Bible faithfully, but sometimes you just don't know how or where to begin…
If you sometimes wish you knew how to go about understanding what you are reading in more detail…
Or if you feel intimidated at times because you find it difficult to understand the meaning of the biblical text…
…this course is designed for you!
You don't have to be a long-time Christian or a seminary-trained theologian to read and apply the truths of the Bible – God has given His Holy Scriptures to all of us! Using the methods taught in this class, we can dig more deeply into the biblical text.
You will learn the process of reading, interpreting, and applying the Bible, a process that our text authors refer to as the "Interpretive Journey." This journey starts with a call to careful reading, because this is where we determine what the biblical text meant in its original context. Before we are ready to apply that meaning to our lives, however, we need to measure the width of the river that separates us from the world of the text. Once we have crossed the river, then we will be able to apply the meaning of the Bible in relevant and reliable ways.
In addition, this course will help you understand the differences between the many versions of the Bible and how to select one best-suited for your goals and purposes, and will also introduce you to some tools you can use in your studies. This course will help you begin to allow the Holy Spirit to lead you in a wonderful never-ending journey of immersing yourself in God's Word and growing spiritually as you learn more about God's redemptive plan for humanity through the person of His Son, Jesus Christ.
This course is four weeks long, and there will be assignments every weekday.  Please plan to participate in the course site for one hour each day weekday; if you have to miss a day, then there is flexibility to make it up the next day with a little extra time or on the weekend.
Students will need a copy of the book Journey Into God's Word by Duvall and Hays, for the start of class.
2.0 CEUs are available upon successful completion of this course.
About the Instructor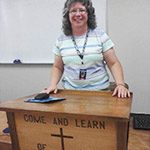 Nancy Golden has a passion for sharing her faith and a heart for people of "every tribe and language and people and nation." She graduated from Dallas Christian College and earned her master's degree from Liberty Baptist Theological Seminary. Nancy's seminary work included theology and Bible with an intercultural studies focus. Her passion for evangelism led her to author a book, The Second Greatest Commandment Meets the Great Commission: How to Love Your Neighbors to Christ (HIS Publishing Group, 2013). She authored a second book, Taking Back Advent: Moving from the Mundane to the Miraculous (Golden Cross Ranch LLC 2018) in the same easy-to-read style to bring a satisfying component to each day of the Christmas season.
Nancy is an adjunct faculty member at Dallas Christian College and has taught How to Study the Bible, New Testament Survey, and World Religions. In addition, she has developed a cross-cultural missions course for Dallas Christian College that incorporates both the theology and the history of missions.
Nancy and her husband Phil are are members of the Carrollton Church of the Nazarene in Carrollton, Texas. Nancy is very active at her church and she is also the Director of the Carrollton League of Writers, an outreach of the church that provides their weekly meeting place. When she is not busy with her family, students, and church activities, Nancy can be found riding her horse, Pistol, who fortunately does not mind listening to her sing praise and worship songs!
Visit Nancy's website to learn more about how to share your faith.
Past Students Said…
"During the last 20 years I have been very interested in learning how to read and interpret the Bible accurately. Being retired, I even considered going to seminary to get a degree in Biblical Studies …  'How to Study the Bible' has opened my eyes to how to read and interpret the Bible and has given me a simple guideline on how to do it. The course was very well organized and the supplemental materials were excellent.  I highly recommend this course."  – Sandra Bordelon
"When I entered the course I had no idea what to expect. I was impressed by the step by step manner in which the text and instructions were laid out for us. I was surprised by the fact that I would have to write a paper, but… "OK… I've accomplished such before, I can do a paper." Yet, what I found through following the course's directions was peace. I used the incident in Genesis (when Abraham was told by God to prove his devotion to God by sacrificing his son Issac) as the basis for my paper. I researched and finally understood the true meaning of that troubling scenario. It no longer troubles me. The course, therefore, was vastly beneficial to me on a personal level. I am glad that I accepted the Spirit's prompting and invested in the course. It has made a difference in how I read the Bible. I am grateful for the time and knowledge that Nancy Golden put into the course. It is well worth taking."  – Angela Wylie
"The course was very beneficial to me, personally.  The instructor was helpful and replied to discussion questions with prompt and helpful insight."