Quick Info:
Number of weeks: 2
Price: $50
CEUs: 1.0
Required books?: No
Live video session?: No
Part of a certification or series of courses?: No
After decades of life experience, it's normal for us to spend more time reflecting on the life we have lived. Go deeper into this practice by comparing your reflections with those of Qoheleth, the author of the biblical book of Ecclesiastes.
We're all familiar with the "For everything there is a season" passage from Ecclesiastes 3, made even more famous by the Pete Seeger song popularized by the Byrds in the mid-1960s.  But the rest of Qoheleth's reflections on life in the book of Ecclesiastes might surprise us as Christians — they seem dark and hopeless, and not what we'd expect from a book of the Bible.
Why might this be the case, and what can it teach us?  In this course, we'll imagine we are sitting down to coffee and conversation with Qoheleth.  We don't have to agree with Qoheleth, but Ecclesiastes gives us the opportunity to examine our own reflections through dialogue with his.
This course is eligible for 1.0 CEU.
About the Instructor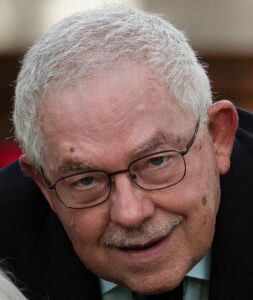 Born in 1946, Ron is a leading-edge Baby Boomer. He's seen his 70th birthday and his 50th high school class reunion. He is a retired United Methodist elder in the Florida Conference, having served as pastor of congregations in that conference for 30 years and retiring in 2014.
Ron is a 1969 graduate of the Florida State University School (now College) of Music and a 1984 M.Div. graduate of Candler School of Theology, Emory University, Atlanta. Engagement with the Bible is what keeps him going.
Elaine and Ron live in central Florida and have a daughter and two surviving grandsons.
Past Students Said…
"This was well worth my time and effort. Ron McCreary did an excellent job guiding us through the material. And, of course, I appreciated that I could do the work when I could (even if once it was at 3am and another at lunch time!). Now my challenge is to figure out how and when to preach on the book!"
"I have heard Chapter 3 many times and even preached on it at funeral services. This was my first full encounter with Qoheleth/Ecclesiastes. I liked the way the course moved around by topic; it seems a cyclical book. I would say this encounter has been a meaningful one for me at this point in my life. Turning 60 years, I appreciated the perspective of Qoheleth/Ecclesiastes and also the permission it gives to ruminate on one's life in a theological sense."
"I don't mean to be overly effusive, but this was one of the best classes I've taken from BeADisciple!  It was also probably the  most challenging (which is ok, we shouldn't shy away from that).  Our instructor was patient and gracious, but also very honest, and his critiques were very insightful and helpful.  His approach helped participants be forthcoming, as well, which doesn't always happen.  The class certainly gave me a greater understanding of this book of the Bible, but – more importantly – it helped me evaluate the way I view things and the way in which I communicate.  Absolutely invaluable, and thank you very much!"
"The most helpful part was the conversational style with the character Qoheleth – sort of looking through ancient eyes at my own personal life.  I felt "safe" in the course to do self-disclosure which, I think, deepened the course's meaning from a healing/spiritual angle rather than merely being a Bible study."
"I had read Ecclesiastes before on 3 separate occasions. But this time, diving into it so deeply as we did, it is now burned into my brain! We really wrestled with it. I feel like I know Ecclesiastes and know Qoheleth a whole lot better than I did before. What's more, writing all those short essays caused me to explore my reaction to Qoheleth's writings. They helped me articulate my own feelings and beliefs. And of course, the feedback I received from our instructor helped me sharpen those thoughts that I had articulated."