Quick Info:
Number of weeks: 10
Price: $65
CEUs: 1.0
Required books: No
Blackboard: Yes
Zoom: Yes
Certification or Series: No
Want a way to preview or review a trip to the Holy Land?  Want to learn about key sites and events in the life of Jesus, but can't afford a trip to the Holy Land?  Are you interested in the ways that culture and geography illuminate the Gospels and the Life of Jesus?
Using a host of media from studies in the Holy Lands (with Dr. Jim Fleming), Pastor Jim Reiter will take you on a tour of Israel — with an eye to the ways that considerations of 1st Century Middle Eastern customs/culture, geography, and a variety of sciences (including archaeology and sociology) illuminate the life, ministry, and teachings of Jesus of Nazareth.
No books are required, however, there will be list of recommended readings as well as downloadable materials and handouts each week.
The instructor will work with students to determine the best day and time of week to hold occasional Zoom (live video chat) meetings. Recordings of these meetings will be posted for those who are unable to attend.
About the Instructor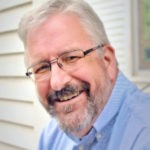 The Rev. Dr. Jim Reiter is a retired Elder in the Texas Annual Conference of the United Methodist Church—having served a number of churches in the East Texas area over the last 35 years.
With degrees from Perkins School of Theology and a Professional Certification in Spiritual Formation through the General Board of Higher Education and Ministry of the United Methodist Church, Jim is the Lead Instructor in BeADisciple's coursework related to certification in spiritual formation. Jim and his wife, Kathy, are also committed to facilitating spiritual formation conversations and experiences through their ministry, Zoe-Life Explorations.
Among the exciting "chapters" he values in his life and ministry is work in the Holy Lands with Dr. Jim Fleming — first as a participant in his Study Tours and then as the U.S. Manager of his Biblical Resources. Jim acknowledges his indebtedness to Fleming for much of the insights, teachings, media, and other connections which he brings to his "Survey of the Life of Jesus."