Quick Info:
Number of weeks: 6
Price: $60
CEUs: 2.0
Required books?: No
Live video session?: No
Part of a certification or series of courses?: No
This six-week course will help pastors, church leaders, community leaders, friends, family and neighbors learn about military family experiences and discuss ways to connect with military families in their community. This course is for anyone who wants to support families of service members!
Join us as we explore the common challenges that military families face, and propose ways to help build connections between military families and your community. It's all about finding ways to build bridges to support those who serve our country!
Here's an overview of what we will discuss during our time together:
Week One: Intro to the Workshop & Intro to Military Culture​
​Week Two: Supporting Military Families During Relocation​
​Week Three: Supporting Military Families During Deployment/Geographical Separation​
Week Four: Supporting Military Children and Teens​
​Week Five: Supporting Military Marriages​
​Week Six: Awareness of Mental Health Challenges
Now includes discussion about supporting military families during COVID-19.
While it is not required for the course, it is highly recommended that students have Serving Military Families (second edition) by Blaisure, Seathoff-Wells, Pereira, Wadsworth, Dombro.
This course is eligible for 2.0 CEU.
About the Instructor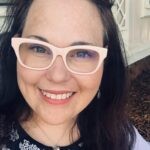 An Army spouse of 14 years, Teresa Banner is passionate about serving military families. Her previous work experience includes parent education and support for military families with small children, and ministry with youth and young adults and their families. Living in several different communities has provided Teresa with opportunities to serve with a variety of ministry programs within the United Methodist and nondenominational congregations where her husband's Army career has brought their family.
A registered nurse, Teresa completed undergraduate nursing schoool (2009) at Prairie View A&M University, a Master of Science in Family Studies (2016) from Texas Woman's University with the Certified Family Life Educator (CFLE) credential, and a Certificate in Christian Education (2019) from Asbury Theological Seminary.
Teresa is married to Craig, and they have two children, Lincoln and Annabelle. They have previously lived in Fort Hood, Texas; Fort Lee, Virginia; Fort Stewart, Georgia; Houston, Texas; Fort Leavenworth, Kansas; and now call Hawaii home!
Teresa is passionate about building bridges between military and civilian communities, and hopes to provide course participants with not only fresh knowledge about the common experiences, challenges, and numerous strengths of today's military families, but with practical ideas on how to connect with military friends, neighbors, and congregants in their local communities.