Quick Info:
Number of weeks: 5
Price: $75
CEUs: 1.0
Required books?: Yes
Live video session?: No
Part of a certification or series of courses?: No
NOTE: The instructor has calendared this 4-week course to run for 5 weeks — to allow a week off for those observing Spring Breaks in this time period.
Have you ever considered the Christian life to be an adventurous journey?
Have you ever wondered where you are in that journey… and what's next?
You're not alone. Voices from the Bible and Church history combine to portray our spiritual lives as a pilgrimage – beginning with our waking up to Grace, and making our way to full reunion (or homecoming) with God.
Having some sense of the path can help us (and those to whom we minister) to better understand where we've been with a clearer sense of what's next (and how we might cooperate with Grace to get there).
The course conversation will begin with a review of our unique stories—taking time to chart our individual journeys up to this point in our lives. From there, the course will take time to engage various models (or "maps") of the spiritual journey. While we'll take some time to affirm the Scriptural grounding of these models, our main focus will be on the ways that the models illuminate the path behind us… and the way that still lies ahead. The course will conclude with a consideration of how the wisdom and insights contained in these models can help us define practical and realistic next steps in our journeys back home to God.
Students are required to have the following book:
This course is eligible for 1.0 CEU.
*Using the Amazon Affiliate link further supports our ministry. Thank you!
About the Instructor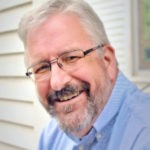 The Rev. Dr. Jim Reiter is a retired Elder in the Texas Annual Conference of the United Methodist Church—having served a number of churches in the East Texas area over the last 35 years.
A 1983 graduate of Texas A&M University, Jim went on to attend Perkins School of Theology where he received his M.Div. in 1987 and his D.Min. in 1992. Most recently, he was awarded a Professional Certification in Spiritual Formation by the General Board of Higher Education and Ministry and the Texas Annual Conference of the United Methodist Church (completing all required coursework at Garrett Theological Seminary). In addition to chairing the "Faith-Forming Relationships & Spiritual Formation" team of the Texas Annual Conference, Jim serves as lead instructor of BeADisciple.com's certification program in spiritual formation.
Throughout the course of his active years as a United Methodist pastor, spiritual formation has been a keen interest and focus for Jim. It's an interest/focus emerging from a host of streams, including explorations in the contemplative life, immersion experiences in monastic settings, leadership in a variety of retreat settings, research in stages of faith development, experience with and gleanings from traditional and not-so-traditional spiritual disciplines, and a keen interest in the intersection of Christ and culture – focused especially in the spiritual themes embedded in the movies.
Early retirement has allowed Jim to direct his energies most fully to his passion in ministry: spiritual formation. Jim and Kathy, his wife of 35 years and spiritual formation leader in her own right, recently founded Zoe-Life Explorations, a series of program offerings designed to facilitate experiences in and conversations about spiritual formation in the lives of individuals and faith communities.