Quick Info:
Number of weeks: 4
Price: $35
CEUs: 2
Required books?: Yes
Live video session?: No
Part of a certification or series of courses?: No
This course, taught by Bishop Ruben Saenz Jr., episcopal leader of the Great Plains Conference, will familiarize you with the adventurous healing ministry of Christ and renew your practice of healing prayer and whole person ministry. Bishop Saenz — whose doctoral dissertation topic was "Healing Prayer and Rite: A Necessary Evangelistic Activity for Hispanic Ministry" — will help you will explore your personal questions and concerns as they relate to the healing ministry in a safe, encouraging, and open atmosphere.
You will learn that Christ's salvation is holistic, encompassing not only the salvation of our souls, but also inclusive of healing-saving wholeness for broken bodies, spirits, minds, relationships, institutions, and communities. You will grow in your appreciation and recognition that medicine, psychiatry, therapy, and prayer are not in opposition but actually work together to heal and make whole. More importantly, you will have an opportunity to reflect on your personal spiritual journey, remembering God's gracious help throughout your life in the good times and bad, and discern where God is leading you next in your personal life and in the life of your church.
Proceeds from this class will go in part to two organizations dedicated to the lives of youth in the Great Plains Conference: Youthville in Kansas and to Epworth Village in Nebraska
Learners will be required to obtain a copy of the following book:
A Preview with Bishop Saenz
About the Instructor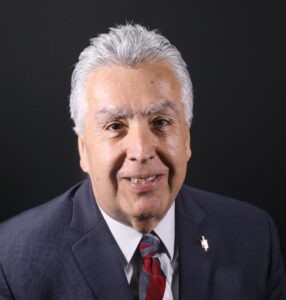 Ruben Saenz Jr. serves as the resident bishop of the Great Plains Annual Conference of The United Methodist Church. He earned a doctorate of ministry from Perkins School of Theology with a concentration in evangelism. He studied healing ministry as part of his doctoral work.
Prior to his election to the episcopacy in 2016, Bishop Saenz was the point person to the bishop and the cabinet of the Rio Texas Conference, based in San Antonio, in designing and implementing ministries to fulfill the conference's mission. He served in the role of director of connectional ministries and executive director of the Mission Vitality Center in Rio Texas.
During his pastoral career, Bishop Saenz served churches in Dallas, El Paso and Edinburg, Texas. In those congregations, he addressed the issues of generational, social and systemic poverty that plague the region. In El Paso, he led the congregation to create and implement the Levantate – Get Up computer literacy program, targeting single mothers who were unemployed because of factory shutdowns so they could enter the job market at a sustainable wage level.