Quick Info:
Number of weeks: 5
Price: $125
CEUs: 3.0
Required books: No
Blackboard: Yes
Zoom: No
Certification or Series: No
This course will examine historical and contemporary approaches to Christian understandings of salvation. Beginning with biblical resources, students will consider theological language about redemption, salvation, justification, and the Kingdom/Realm of God. Moving forward, the thought of key theologians will be engaged, including but not limited to Origen, Irenaeus, Augustine, and Wesley. Students will then examine contemporary authors from various theological disciplines (e.g., liberation, feminist, Black Theology), seeing how the doctrine of salvation relates to contemporary social and community issues.
The objective for the course is to provide a space in which students can reflect on their own understandings of salvation, while also working to develop a more thoroughly informed theology on the subject. Students will also be encouraged to consider ways in which they can practically live into these understandings and guide others in their own faith communities. Selected excerpts will be made available to students from theologians like those mentioned above. Through course work and lectures they will be able to process together and with the instructor what they're seeing in these writings and how they relate to their own theologies and congregations.
This course is eligible for 3.0 CEU.
About the Instructor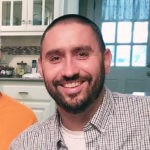 Marc Boswell has served in ministry positions in North Carolina, Virginia, Illinois, and Louisiana. Growing up in eastern North Carolina, he attended the University of Mount Olive (B.A. Religion), Union Presbyterian Seminary (M.Div.), and Garrett-Evangelical Theological Seminary (Ph.D.).
Marc is currently the executive director of Together for Hope Louisiana – a rural poverty development ministry in the Louisiana Delta. In 2017, he also founded and is the editor of Progressive Southern Theologians. He enjoys photography, cooking, and writing. His research and teaching interests include constructive/liberation theologies, community development, and race in American culture.