Quick Info:
Number of weeks: 3
Price: $55
CEUs: 1.5
Required books?: Yes
Live video session?: No
Part of a certification or series of courses?: No
Many Christians are surprised to learn just how much they have in common with Muslims. This course will help you find common ground with those who follow Islam and specifically walk you through practical steps towards engaging in dialog with those of the Muslim faith, with an eye towards seeking reconciliation.
Participants will need a copy of the book, Muslims, Christians, and Jesus: Gaining Understanding and Building Relationships, by Carl Medearis, for this course.
About the Instructor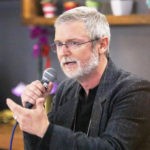 Keith Giles is the regional director for Peace Catalyst International in El Paso, TX. He and his wife Wendy are working to build relationships of peace and reconciliation between Muslims and Christians by hosting Peace Feasts and other gatherings where open dialog and active listening is encouraged.
Keith is the author of several best-selling books including Jesus Untangled: Crucifying Our Politics To Pledge Allegiance To The Lamb and also Jesus Unbound: Liberating the Word of God from the Bible, both of which were published by Quoir Publishing.
He also teaches several other courses for BeADisciple.com, those can be found on his biography page.