Quick Info:
Number of weeks: 3
Price: $65
CEUs: 1.5
Required books?: Yes
Live video session?: No
Part of a certification or series of courses?: No
As American Christians pledge allegiance to the flag, we are increasingly aware that our churches are no longer united as one, but are deeply divided along political lines.
The facts are alarming. Political divisions have created a fractured and broken Church community. Evangelical Christians are slowly growing older and more irrelevant to their communities. Young people are leaving the church by the thousands. Most young people say politics in the pulpit is driving them away from Christianity.
How can we find common ground in today's political climate? This course, led by author and Bible teacher Keith Giles, will help us to identify the reasons why the Christian Church is so politically-divided today, and show us how to rediscover our true source for unity in the Body of Christ.
Participants will need a copy of the book, Jesus Untangled: Crucifying Our Politics To Pledge Allegiance To The Lamb, by Keith Giles, for this course.
Watch an interview with instructor Keith Giles:
About the Instructor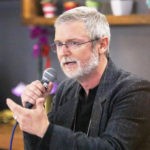 Keith Giles is a licensed and ordained pastor who left the pulpit over 10 years ago to start a house church that gave away 100% of the offering to the poor in the community.
He is the author of Jesus Untangled: Crucifying Our Politics To Pledge Allegiance To The Lamb and also Jesus Unbound: Liberating the Word of God from the Bible, both of which were published by Quoir Publishing.
Keith is also the co-host of the Heretic Happy Hour Podcast and blogs regularly at: www.KeithGiles.com
He and his wife, Wendy, have two grown sons who are currently attending college in Southern California. They live [for now] in Meridian, Idaho.
Past Students Said…
"I learned from this course that everything I thought about justification of violence of any type my not be acceptable to Christ."
"Yes, this course and the book have been a blessing to me. The book and the course exceeded my expectations. Thank you." – Karen Hoff
"I learned I have a responsibility as a disciple of Jesus to help make the world a better place for all people by following Jesus' command to love God and love neighbor as yourself. I cannot depend on any political system to make the world a better place."