Quick Info:
Number of weeks: 3
Price: $65
CEUs: 1.5
Required books?: Yes
Live video session?: No
Part of a certification or series of courses?: No
Most Christians are trained to approach the Scriptures from a "Flat Bible" perspective. But, what if there's another way to look at the Bible? What if the New Testament authors – and the earliest Christians – taught us to look at the Bible through the lens of Christ?
Author and Bible teacher, Keith Giles, will show us how and why a Christ-centric perspective on Scripture is not only what Jesus, the apostles and the early Church encourage us to take — it's also how many of our most difficult and confusing issues with the Scriptures become resolved.
This course will explore the difference between a "Biblical" and a "Christlike" approach to Scripture and what it means to say the Bible is "Inspired", "Inerrant" and "Infallible."
We'll also explore the reliability of the Gospels, various Biblical difficulties, and more!
Participants will need a copy of the book, Jesus Unbound: Liberating the Word of God from the Bible, by Keith Giles, for this course.
About the Instructor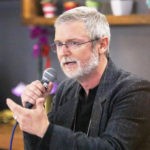 Keith Giles is a licensed and ordained pastor who left the pulpit over 10 years ago to start a house church that gave away 100% of the offering to the poor in the community.
He is the author of Jesus Untangled: Crucifying Our Politics To Pledge Allegiance To The Lamb and also Jesus Unbound: Liberating the Word of God from the Bible, both of which were published by Quoir Publishing.
Keith is also the co-host of the Heretic Happy Hour Podcast and blogs regularly at: www.KeithGiles.com
He and his wife, Wendy, have two grown sons who are currently attending college in Southern California. They live [for now] in Meridian, Idaho.
Past Students Said…
"I believe that the Holy Spirit helped me find this class. It is no accident that I was not able to easily dismiss it. The timing was perfect as I had challenged myself to delve deeper into the Bible this year than I have ever gone." – Marvé Ralston
"This course made me look at a relationship with Jesus in a new way."