Quick Info:
Number of weeks: 3
Price: $65
CEUs: 1.5
Required books?: Yes
Live video session?: No
Part of a certification or series of courses?: No
Starting a traditional church can be very expensive and time consuming. But what if you didn't need thousands of dollars and an army of volunteers to start a thriving community of faith in your neighborhood? Better yet, what if this home-based family of God was actually modeled straight out of the Scriptures?
In this 3 week course, former pastor, author and house-church practitioner Keith Giles will show you how easy and inexpensive it is to start a vibrant New Testament-style Ekklesia where everyone is free to use their spiritual gifts and "Be the Church" as God intended.
This class will show you how to have a meeting with Jesus and not just one about Jesus, how to let Jesus be the Head of the Church, what it means to practice the 58 "One Anothers" in the New Testament, what it means to actually operate as the "Body of Christ", and much more.
We'll also explore how to have an impact on your community and maintain a healthy balance of inward and outward ministry.
Participants will need a copy of the book, Jesus Unveiled: Forsaking Church as We Know It for Ekklesia as God Intended, by Keith Giles, for this course.
About the Instructor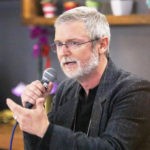 Keith Giles is a licensed and ordained pastor who left the pulpit over 10 years ago to start a house church that gave away 100% of the offering to the poor in the community.
He is the author of several best-selling books, including Jesus Unveiled: Forsaking Church as We Know It for Ekklesia as God Intended, and lives in Idaho with his wife, Wendy.
Past Students Said…
"This is a great course if you are planning to or already start a house church. Regardless which denomination you are from you will agree to the model of house church Keith introduces. He is generous offering advice and open to discussing any doubt you have. I recommend to everyone who is thinking about starting a house church." — Kong Colin
"I have very much enjoyed the class. The book is easy-to-read and insightful. The video clips have been helpful in wrapping all of the concepts from the book into a nice daily summary. The Discussion Board daily exercises have helped me to process all of the ideas and concepts as I consider the questions and think about my responses. Our instructor Keith has been very interactive and encouraging our participation on the board. He offers encouragement and guidance in a positive and productive manner. It is also helpful to read my classmate's thoughts. I'm excited to take the concepts and try starting a home church in my community." — Corneil Vacirca
"The course is truly inspiring and very thought-provoking so far. The video portion and the blackboard question and answer part is provocative and the interactions and comments by Keith and other students are really interesting. It is obvious that Keith Giles is truly inspired and guided by Jesus and you can't help but walk away wondering why you never did this sooner." — Tom Dye
"As a pastor in one of the "old ways" I wondered if in my eagerness [for house churches] I was betraying my tribe. But after almost two weeks of education, reflection and true growth, I'm finding this "new way" might actually be useful in informing and rejuvenating my continuing experience in the "old way." As our Jewish Christian forebearers did not wholly abandon temple worship in favor of the Ekklesia, I now foresee not an abandonment on my part but rather the opportunity to be a guide and beacon to deeper spiritual experience and engagement with my tribe." — Laird MacGregor
"