Quick Info:
Number of weeks: 3
Price: $65
CEUs: 1.5
Required books?: No
Live video session?: No
Part of a certification or series of courses?: No
Are you curious about how to serve the poor in your community? Are you a pastor seeking to start a new ministry to people in poverty around you? Are you a follower of Jesus who is eager to follow Him into those places outside your comfort zone where hurting people are, but have no idea where – or how – to begin?
In this 3-week course, author Keith Giles shares his own personal experiences serving the poor in Southern California over a 15 year period, and offers very practical insights into how you can start to share the love of Jesus with people who are living in poverty all around you.
Daily video lectures will lead us step-by-step through the process of creating a framework and a philosophy of service. Students will answer questions in the Discussion Boards each day to help clarify their vision for serving those in poverty, and practical guidelines will be provided for how to start an effective ministry in their community.
Our goal is to help you understand the essential components of a sustainable ministry to people in need so you can start your ministry and begin to serve others in the next 30 days.
About the Instructor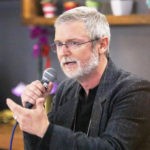 Keith Giles is a licensed and ordained pastor who left the pulpit over 10 years ago to start a house church that gave away 100% of the offering to the poor in the community.
He is the author of several best-selling books, including Jesus Unveiled: Forsaking Church as We Know It for Ekklesia as God Intended, and lives in Idaho with his wife, Wendy.