Quick Info:
Number of weeks: 2
Price: $65
CEUs: 1.0
Required books?: No
Live video session?: No
Part of a certification or series of courses?: No
Have you ever wanted to have a conversation about film with your friends, family, or ministry group but weren't sure how to start? In this course Rev. Jacob Sahms will help guide you through the process of thinking critically and theologically about film so that you can better engage others in written and face-to-face conversations about films. Participants will share their own thoughts through written responses to film together.
Over the two-week course, participants will be encouraged to watch films such as Superman: the Movie and Star Wars: A New Hope, Field of Dreams and Friday Night Lights, The Mission and Silence, as well as offer up films of their own choosing for discussion.  You're welcome to watch the movies before the class starts.
Participants will rent, buy, or borrow films on their own, and discuss through the message board.
Reading Joseph Campbell's book The Hero with a Thousand Faces is encouraged but not mandatory.
This course is worth 1.0 CEU.
About the Instructor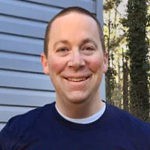 Reverend Jacob Sahms is a full-time elder in the Virginia Annual Conference of the United Methodist Church. In 2004, he connected with HollywoodJesus.com, a site then focused on reviewing film, books, TV, and music from a faith perspective. After stops as the Music and DVD editor, he was named Managing Editor from 2012-2015.
Leaving HJ, Jacob and another pastor launched ScreenFish.net to continue the vision of HJ to share the good news through media, while Jacob was also hired to run content for ChristianCinema.com, providing reviews and interviews with those making films. In late 2018, the Giving Company merged CC with several other companies, including the national film site Dove.org, and hired Jacob to continue coverage of films from a faith perspective across its network.
When he's not serving the church or covering film, Jacob can be found coaching his two sons in sports or catching up with his elementary educator wife.