Quick Info:
Number of weeks: 3
Price: $65
CEUs: 1.5
Required books?: Yes
Live video session?: No
Part of a certification or series of courses?: No
What if the End Times ended and the Second Coming isn't what you think?
Most Christians today have no clue that the version of Biblical Prophecy they've been taught isn't something the Christian Church believed for over 1,800 years. The Second Coming of Christ has been "Coming Soon" ever since 1830 when John Nelson Darby popularized his End Times Dispensational Rapture Theology.
This course explains how we got here and suggests an even more astounding perspective on what the New Testament reveals about the "Second Coming" of Christ.
Learners will be required to obtain a copy of Jesus Unexpected: Ending the End Times To Become The Second Coming by Keith Giles.
This course is worth 1.5 CEUs.
About the Instructor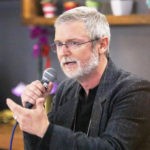 Keith Giles is a licensed and ordained pastor who left the pulpit over 10 years ago to start a house church that gave away 100% of the offering to the poor in the community.
He is the author of Jesus Untangled: Crucifying Our Politics To Pledge Allegiance To The Lamb and also Jesus Unbound: Liberating the Word of God from the Bible, both of which were published by Quoir Publishing.
Keith is also the co-host of the Heretic Happy Hour Podcast and blogs regularly at: www.KeithGiles.com
He and his wife, Wendy, have two grown sons who are currently attending college in Southern California. They live [for now] in Meridian, Idaho.