Quick Info:
Number of weeks: 3
Price: $75
CEUs: 1.5
Required books: Yes
Blackboard: Yes
Zoom: Yes
Certification or Series: No
Whether you have been married many years or are just considering marriage, integrating your marital and spiritual life can produce deeper love, intimacy, and union. "Falling in Love…Finding God" is a three-week course based on the book of the same name by M. Bridget Brennan and Jerome L. Shen. The authors point out that loving each other leads us to greater gratitude for God's love. "Growing in intimacy with God inspires us to greater love and intimacy with each other," they point out." Loving each other leads us to greater gratitude for God's love."
These reflections on love of God and of each other will be at the heart of our exploration. They will be enhanced by our reflections upon and experiences of the Spiritual Exercises of St Ignatius of Loyola, who from the 16th century to today has led us through the deepest essentials of Christian spirituality.
Besides interacting with one another through regular discussions on Blackboard we will also meet "face-to-face" through our online Zoom meetings each Wednesday from 8 to 9 p.m. (EST).  Your participation in these scheduled meetings is pertinent to the course; please mark your calendar and plan to attend.  Information on how to access Zoom will be given in the Blackboard course site.
Learners will be required to obtain a copy of the book:
Falling in Love…Finding God, by M. Bridget Brennan and Jerome L. Shen*
*Using this Amazon Affiliate link further supports our ministry. Thank you!
This course allows for a maximum of 12 participants.
About the Instructor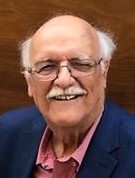 Jerry Herauf (M.A., M.Div.) trained and ministered in the Jesuit community for 18 years before continuing his lay service in publishing, pastoral care, and bereavement ministry for more than four decades.
 He has been chaplain and director of pastoral care ministries in hospitals and long-term care facilities in New Jersey and Pennsylvania over the past 20 years. He currently is PRN (as-needed) hospice chaplain with Revolutionary Home Health and Hospice in Allentown and Eynon, Penn., and facilitates seminar courses and bereavement support groups online and in-person.  
Jerry is a spiritual counselor, certified by the Jesuit Spirituality Center (Guelph, Ont.). He has directed retreats ranging from one-on-one counseling to Ignatian retreats lasting up to 30 days, as well as those taking place in everyday lives.  Of all his ministries, he has found his work among the grieving to be one of the most poignant.