Quick Info:
Number of weeks: 2
Price: $70
CEUs: 1.0
Required books?: No
Live video session?: Yes, required
Part of a certification or series of courses?: No
Storytelling is as old as human existence. Through stories, a person's brain and consciousness explore and make sense of the world. Stories of faith and faithfulness not only speak of past experience, but work to construct daily realities and future hopes, creating worlds that make sense.
Faith and spirituality deepen when storytellers connect their stories with each other and with God. In Storied Learning, learners will name their experiences, share their stories, and hold the space of being and becoming for each other. The two-week hybrid class will also look at literature about stories and narrative as means for learning and growing in faith. Learners will follow an asynchronous schedule of learning as well as meeting in real time to connect with each other and share their stories.
The course will meet live on Tuesdays and Thursdays for story sharing sessions.
This course is eligible for 1.0 CEU.
About the Instructor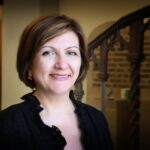 An Armenian educator and practical theologian from Syria, Tamar Wasoian Ph.D. is an independent scholar who teaches at several theological seminaries in the United States and the Philippines. Her interests and expertise include "storied learning," communal memory, faith, and identify formation. She is actively involved with the Armenian community, the Presbyterian Church (USA), and Unitarian Universalist Association.