Quick Info:
Number of weeks: 5
Price: $60
CEUs: 0
Required books?: No
Live video session?: Yes, optional
Part of a certification or series of courses?: No
So many Christians spend their lives in pursuit of the next spiritual high while ignoring the reality that God is ever-present in their ordinary days.  "Blessing Book" introduces a process that is about coming home to oneself and to God.
Learners in this course will cultivate a sense of presence to life and to God that strengthens the spiritual journey of everyday life.
This is done through making art as a spiritual practice, cultivating active presence to life and to God, and embodiment practices that refresh and nurture body, mind, and soul.
Each week the learner will:
Engage creativity as a spiritual practice
Experience simple practices to nurture the physical body
Become present to the sacredness of ordinary days
Celebrate life
Live session will be available at the beginning and the end of the course. The remainder of the course will be self study.
About the Instructor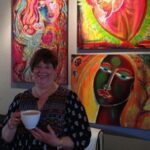 Mary Ann Matthys, MA, CSD is a Spiritual Director, Experienced Retreat Facilitator and Artist. Mary Ann values exploring the spiritual journey through the lens of Art as Process. Mary Ann currently teaches with the Charis Spiritual Direction Training Program in Texas. She is an experienced Retreat Facilitator who loves crafting beautiful experiences for her Beloveds.
Mary Ann studied at the Glassell School of Art in Houston and holds a Master's Degree in Sacred Texts and Images from the University of Houston Clear Lake. Her art has been featured in juried exhibitions and graced the walls of a local gallery near Houston. Mary Ann's current passion is a creative process called Blessing Book that was birthed during the time of corona in 2020. Mary Ann finds art as process to be a valuable way to navigate the interior regions of one's soul. It is a way to process the joys, sorrows, ups and downs in life. The creative process invites us to celebrate our joys and successes, as well as work through the rough places in life. It has been a priceless way to navigate this time of corona in 2020 and 2021.