Quick Info:
Number of weeks: 4
Price: $120
CEUs: 1.0
Required books: No
Blackboard: Yes
Zoom: Yes, optional
Certification or Series: No
Many churches and church leaders are unsure of how to be inclusive of the LGBTQ community.
This course will enable church leadership to create children, youth, and family ministries that can fully love and embrace LGBTQ people.
Course materials will include short articles, videos, and class discussions. A Zoom component will be offered on Tuesdays from 7 to 8:30 p.m. Eastern Time but is not required. Participants will learn basic LGBTQ vocabulary, learn about the lived experiences of individuals, and discuss authentic challenges and rewards connected to inclusion.
This course will introduce learners to the Reconciling Ministries Network, which has been supporting LGBTQ persons in the church since 1984.  According to their website, "over 30 years later, the Reconciling movement spans four continents, 1,000+ churches, and 40,000+ individuals."
This course is worth 1.0 CEUs
About the Instructor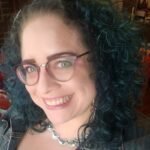 Gwen loves teaching, storytelling, and being creative. During her childhood, she learned the importance of Christian education and community volunteering by helping her mom at church. Gwen graduated with a degree in creative writing and a minor in youth ministry from Oral Roberts University. After returning to Ohio in 2010, Gwen earned her master's degree in TESOL (Teaching English to Speakers of Other Languages) from Ohio Dominican University. Gwen and her wife, Felicia, have been members of King Ave UMC since February 2015.  Kings Ave UMC is a part of the Reconciling Ministries Network.
In her staff role, Gwen is responsible for Worship Connections during the 9 am and 11 a.m. services (age 4 to third grade), Godly Play Sunday School, and Youth Sunday School. She facilitates the Discipleship Program (grades 4 to 12) and assists with lesson planning and teaching confirmation classes. Gwen trains and organizes the volunteers for the Sunday morning program for children and youth, and assists with youth group and youth annual conference.