Other courses have discussed women mystics and men mystics separately. Since God created male and female, it is now logical to explore how women and men mystics walk together. This course invites you to learn how partnerships bring female mystical power and male ecclesiastical authority together without placing one above the other. 
A live optional Zoom will be the last day of the course at 8:00 PM (EST)
This course is eligible for 1 CEU.
Quick Info:
Number of weeks: 2
Price: $70
CEUs: 1.0
Required books?: No
Live video session?: Yes, optional
Part of a certification or series of courses?: No
About the Instructors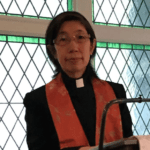 Dr. Asayo Okumura Thomas is an ordained minister in the United Church of Christ of the Metropolitan Association, New York Conference.
She was born and raised in Japan, breathing in the grace and embraced by the love through her mother's bodhisattva sutra chanting. Her doctoral research project at the New York Theological Seminary was "The Sea of Silence: Ceaseless Renewal of the Mind and Heart in Unification of the Trinity through Mindful Meditation."
Currently, she serves at the Community Church of the Pelhams as an assistant pastor for spiritual development. Her spiritual gift is to invite people to open their hearts gently and naturally to be reunited with the love of God through a mindful meditation with biblical verses in Lectio Divina or the ancient Mystic method.  She loves to be in nature, like floating on the ocean wave, walking in the forest communicating with trees, and contemplating in birds singing or simply silence.