Quick Info:
Number of weeks: 4
Price: $70
CEUs: 1.0
Required books: No
Blackboard: Yes
Zoom: Yes, optional
Certification or Series: No
None of us comes naked to the Scriptures. We come clothed with experiences and ideas that are part of who we are. Such factors can distort, conceal, focus, or amplify the meaning of scriptural texts. Lectio Divina, a centuries-old practice of scriptural reading, meditation, and prayer, can help us strip away the personal biases and pretexts that may distort our interpretation of scriptural texts. As we come to see the individual factors that influence our experience with the Scriptures, we become more self-aware in our Bible study. We are also able to see why differences in scriptural interpretation may occur among intelligent and sincere people of common faith. We are better able to understand and appreciate the perspectives of others when we are more aware of the factors at work in our own historical experiences shaping scriptural understanding. 
This course invites you to seek the Scriptures for yourself through the long-standing contemplation practice of Lectio Divina with mystics' words and spirits and the study of hermeneutical inventory.
This course is eligible for 1.0 CEU.
About the Instructors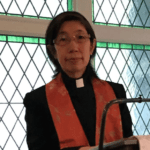 Dr. Asayo Okumura Thomas is an ordained minister in the United Church of Christ of the Metropolitan Association, New York Conference.
She was born and raised in Japan, breathing in the grace and embraced by the love through her mother's bodhisattva sutra chanting. Her doctoral research project at the New York Theological Seminary was "The Sea of Silence: Ceaseless Renewal of the Mind and Heart in Unification of the Trinity through Mindful Meditation."
Currently, she serves at the Community Church of the Pelhams as an assistant pastor for spiritual development. Her spiritual gift is to invite people to open their hearts gently and naturally to be reunited with the love of God through a mindful meditation with biblical verses in Lectio Divina or the ancient Mystic method.  She loves to be in nature, like floating on the ocean wave, walking in the forest communicating with trees, and contemplating in birds singing or simply silence.