Quick Info:
Number of weeks: 2
Price: $60
CEUs: 1.0
Required books?: Yes
Live video session?: No
Part of a certification or series of courses?: No
Post-traumatic stress disorder, also called PTSD, is the failure to recover after experiencing or witnessing a terrifying event like combat, a natural disaster, a car accident, sexual assault or a traumatic incident. It's normal to have upsetting memories, feel on edge, or have trouble sleeping after this type of event. PTSD can happen to anyone. It is not a sign of weakness.
While this disorder has only been getting attention recently, it is not a new disease. Its causes — severe trauma and stress — date back to the beginning of humankind. If someone you love is experiencing anxiety, phobias, depression, insomnia, feelings of guilt, anger, irritability, bad dreams, flashbacks, apathy, or suicidal thoughts after a traumatic or stressful event, PTSD may be the problem.
Through this course, you will find how the Lord provides answers in His Word for these kinds of symptoms. In this study, we will also examine real-life situations and case studies as we seek to find answers using the Word of God.
This course is for anyone who wants to understand PTSD, but especially focuses on how PTSD affects those related to the military: service personnel, veterans, and military families.
This course is just a foundation, and most people will benefit from using this material in small-group sessions at a local church or in a home. It will introduce biblical concepts and, more importantly, develop the framework for PTSD, which can be light in a dark world for millions of sufferers. Hopefully, you, like many others, will find answers to the problems that have arisen in your life as a consequence of a severe personal traumatic event or events.
Students are required to have a copy of Wounded Spirits, A Biblical Approach to Dealing with the Effects of Post Traumatic Stress Disorder, by Douglas J. Carragher Th.D. Sergeant Major, U.S. Army Retired
This course is eligible for 1.0 CEU.
About the Instructor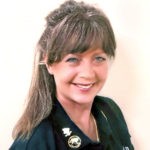 Annette Arnold-Pflaum is an ordained senior chaplain and is the founder and president of Wisteria Ministries. She has specialized in grief support and crisis counseling since the beginning of 2015.
Sr. Chaplain Annette is a Nationally Board Certified Chaplain [BCC], and has been a State of Nevada Licensed Minister since 2014. She is also a Certified Lay Minister in the United Methodist Church and holds a certificate in Congregational Leadership.
A retired nurse, Annette holds a bachelor's degree in psychology/family studies and associate degrees in education and para-medicine. She is a graduate of the Chaplaincy Nevada Theology Academy, where she is now an instructor, and has completed their advanced Clinical Pastoral Training.
Annette is honored to be the Teaching Lead of the Nevada State Chaplains Task Force: Crisis and Critical Response Team, which assists first responders, state officials, government entities and agencies, and Nevada citizens in times of disasters or other crises. Annette was part of the team that was on hand to assist after the 1 October Shooting in Las Vegas in 2017.
Having been a student herself with BeADisciple, Annette understands the benefits and joys of online education, and is excited to share those benefits with others!