There's an epidemic raging through our country. Most people are unaware of it — or they choose to ignore it. Other than those struggling with the condition, few talk about the problem. If you're looking at this course, you're probably experiencing part of the epidemic.
What is this epidemic? Chronic Illness.
If you suffer from chronic illness, or know someone who does, you know how frustrating it can be. One day you feel relatively great, the next day you can hardly move or get out of bed because of the pain. One minute you're straightening up the house or garage and the next instant you're exhausted. Sometimes you may feel almost well, while other days you're incapacitated.
Compared to diseases with clear-cut symptoms, chronic illness is often hard to describe accurately. You can't pin down what you're experiencing, which leaves you and others a bit puzzled. And it's difficult to measure some of the symptoms because of their complexity and the fact that some come and go without seeming to have a pattern. Relatively invisible, it can't be seen like a broken limb or a visible deformity. Some people believe if it isn't visible, "it doesn't exist;" a dismissal which can be almost as painful as the illness itself.
Whether you're a man or a woman; whether your pain is physical, mental, or emotional; whether your up times outweigh your down times or vice versa — this course will encourage you and provide some ideas and suggestions you may not have considered.
In this course together, we will find out how chronic illness impacts you and other people. Wait until you listen/read and hear from those who live with this illness. You will be shocked and amazed, but most importantly — validated.
Students are required to have a copy of Coping with Chronic Illness, by H. Norman Wright & Lynn Ellis.
This course is eligible for 1.0 CEU.
Quick Info:
Number of weeks: 2
Price: $60
CEUs: 1.0
Required books?: Yes
Live video session?: No
Part of a certification or series of courses?: No
About the Instructor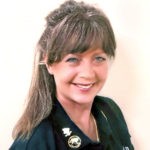 Annette Arnold-Pflaum is an ordained senior chaplain and is the founder and president of Wisteria Ministries. She has specialized in grief support and crisis counseling since the beginning of 2015.
Sr. Chaplain Annette is a Nationally Board Certified Chaplain [BCC], and has been a State of Nevada Licensed Minister since 2014. She is also a Certified Lay Minister in the United Methodist Church and holds a certificate in Congregational Leadership.
A retired nurse and EMT with over 20 years of medical experience, Annette holds a bachelor's degree in psychology/family studies and associate degrees in education and para-medicine. She is a graduate of the Chaplaincy Nevada Theology Academy, where she is now an instructor, and has completed their advanced Clinical Pastoral Training.
Annette is honored to be the Teaching Lead of the Nevada State Chaplains Task Force: Crisis and Critical Response Team, which assists first responders, state officials, government entities and agencies, and Nevada citizens in times of disasters or other crises. Annette was part of the team that was on hand to assist after the 1 October Shooting in Las Vegas in 2017.
Having been a student herself with BeADisciple, Annette understands the benefits and joys of online education, and is excited to share those benefits with others!
Past Students Said…
"Whether you are new to chronic illness or have struggled for years, this course helps with the crucial issues of being your own patient advocate."
"The best part of the course was the responses and prayers of Chaplain Annette. She was extremely helpful by responding to discussion posts with knowledge, caring, and being supportive of class answers. Her responses showed she truly cared for each of her participants."