Quick Info:
Number of weeks: 2
Price: $60
CEUs: 1.0
Required books?: Yes
Live video session?: No
Part of a certification or series of courses?: No
For children, loss can be an momentous event, even if that loss doesn't seem like much to an adult. Furthermore, if children do not resolve issues around loss, that can carry over into their teen years.
Meanwhile, adolescence is characterized by turbulence and an abundance of changes. Adolescence is a roller-coaster experience, a time of stress and storm. It's important to realize that the teen years are filled with loss, too — sometimes on a daily basis.
Both periods of life are full of physical, mental, and emotional changes can leave both you and your child spinning.
After this class, you will have new skills to help a child or teen through this kind of loss or turbulence. It won't be easy, because it's not an easy thing to move into our painful feelings rather than feel them.
Students are required to have a copy of It's Okay to Cry, by H. Norman Wright.  Students may choose to also purchase an additional, optional book for this class: Helping Your Hurting Teen, by H. Norman Wright.
This course is eligible for 1.0 CEU.
About the Instructor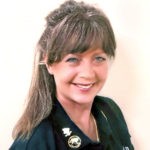 Annette Arnold-Pflaum is an ordained senior chaplain and is the founder and president of Wisteria Ministries. She has specialized in grief support and crisis counseling since the beginning of 2015.
Sr. Chaplain Annette is a Nationally Board Certified Chaplain [BCC], and has been a State of Nevada Licensed Minister since 2014. She is also a Certified Lay Minister in the United Methodist Church and holds a certificate in Congregational Leadership.
A retired nurse, Annette holds a bachelor's degree in psychology/family studies and associate degrees in education and para-medicine. She is a graduate of the Chaplaincy Nevada Theology Academy, where she is now an instructor, and has completed their advanced Clinical Pastoral Training.
Annette is honored to be the Teaching Lead of the Nevada State Chaplains Task Force: Crisis and Critical Response Team, which assists first responders, state officials, government entities and agencies, and Nevada citizens in times of disasters or other crises. Annette was part of the team that was on hand to assist after the 1 October Shooting in Las Vegas in 2017.
Having been a student herself with BeADisciple, Annette understands the benefits and joys of online education, and is excited to share those benefits with others!